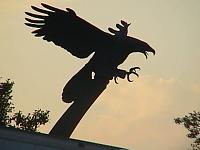 Access Auburn's Top Ten Stories of 2021
For the second year in a row, The COVID-19 pandemic was Access Auburn's top story of the year but there was more news in 2021. Check out our Top Ten Stories of 2021.
read more >
double-a blog
In his introduction to the SEC media in Birmingham on Thursday, first year Auburn football coach
Bryan Harsin
was asked about the COVID-19 vaccine. His response was, "I think we're in that 60% range." He continued, "This is a personal decision--it's deeply personal for a lot of people. So that's how we approach it: Here's the information, you make the decision."
Bzzzz! That was the wrong answer.
read more >
area weather
.TONIGHT... Cloudy. A 20 percent chance of rain and snow early in the evening. Lows around 30. West winds 10 to 15 mph with gusts to around 30 mph.
more weather >
features
Lowest Gas Prices in

Auburn