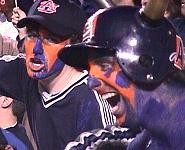 Auburn is Alabama's Fastest Growing City
Recent population estimates released by the U.S. Census Bureau show that Auburn is the fastest growing city in Alabama. Estimates show that Auburn added 2,135 from 2020 to 2021, more than any other Alabama city.
read more >
double-a blog
In his introduction to the SEC media in Birmingham on Thursday, first year Auburn football coach
Bryan Harsin
was asked about the COVID-19 vaccine. His response was, "I think we're in that 60% range." He continued, "This is a personal decision--it's deeply personal for a lot of people. So that's how we approach it: Here's the information, you make the decision."
Bzzzz! That was the wrong answer.
read more >
area weather
.TONIGHT... Mostly cloudy. Lows in the lower 70s. East winds around 5 mph.
more weather >
features
Lowest Gas Prices in

Auburn